The Inaugural Oslers of Medical College,
Thrissur, Kerala, India: Then and Now
by Dr P Ravi Shankar MBBS, MD, FAIMER Fellow, MAoME *
In mid-2019 I received a WhatsApp message from a former classmate inviting me to join a group of my former medical school classmates. At our alma mater, the Government Medical College, Thrissur, Kerala, India each intake of students was named after a famous personality in medicine. We were the inaugural Oslers named after Sir William Osler.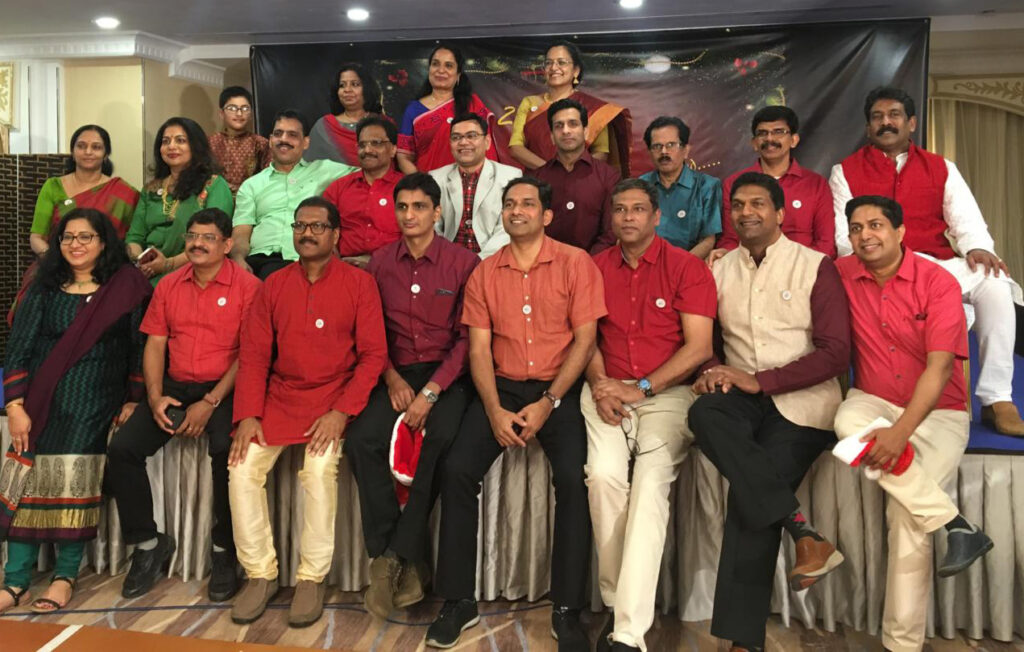 Kerala, God's own country? Over the next week I exchanged notes and reconnected with my classmates. We had spent over six years of our life together. Now nearly everyone was married in the great Indian tradition (where parents feel their children are incomplete without a life partner). Kerala is a state at the Southern tip of India bordering Sri Lanka known for its natural beauty and high human development indices. Thrissur is the cultural capital.
Keralites have a long tradition of migrating in search of better opportunities both within India and abroad. The health sector is well developed. I was pleasantly surprised to know that over three-quarters of our batch practice in Kerala and a large majority in and around Thrissur district. I explore how our shared experiences of over six years of undergraduate medical school and our personal bonding has supported the formation and maintenance of the WhatsApp group. The level of closeness among members during (medical) school influences interactions in the group.
Medicine is becoming less of a solitary pursuit: I had practised medicine in rural Kerala for a few years after graduation and have also interacted with other General Practitioners. During the good old days physical distance isolated many practitioners. The demands of their practice did not allow time to travel and interact face-to-face with others. Doctors have traditionally been individualistic and competitive.
Online groups: I became involved and interested in online groups after joining the Foundation for Advancement of International Medical Education nd Research (FAIMER) group/listserv during my fellowship in health professions education. I have since joined a few other online groups, though I remain selective. In my opinion groups whose members have interacted physically in the real world and share lived experiences are likely to be more cohesive and interact better. During our FAIMER fellowship we had annual face-to-face interactions and our undergraduate medical group has spent over six years of our life together.
KUHS, Thrissur: In early 2020 I visited Kerala and took a trip to Thrissur. The medical college had expanded, and the only constant feature was our college canteen, the venerable Indian Coffee House. I had spent the days of my youth with these talented men and women, and we had little trouble reconnecting and bridging the gap of the intervening years. Our continuing bonding through the online WhatsApp group was very helpful. Many of my colleagues working in Thrissur had developed strong bonds over the years and interacted regularly face-to-face. KUHS and our alma mater was a major locus for physical interaction among our batchmates.
What drives WhatsApp groups: The level of friendship and closeness during the school days may influence the level of interactions among individuals in the group. The group also gives you the freedom to chat and connect personally with individuals with whom you were closer and to form a subsidiary group of very close friends. I have found the mother group provides me with the contact of all my classmates and if required, I can contact them individually. Also, with the passing of time our relationships with some of our batchmates can be reassessed and become more mature. During school days there may have been rivalries due to personal, economic, and political differences but as middle-aged persons, individuals can take a more mature and calm view and try to reform connections.
What we post on the group: The public think doctors are a serious, group of nerdy professionals without humour engaged in saving lives? We do save lives (at least some of us do so directly) but we also have a life outside of medicine which is the primary focus of the group. Members highlight their personal achievements both within and outside medicine. Many of us are still tied to the soil, so horticultural and agricultural achievements are of interest. Developments and challenges facing our alma mater are of course discussed. The state of medicine in Kerala and in India also receives attention. Occasionally there are messages posted about whether anyone knows any doctor at a particular hospital or locality. We post artistic creations, occasional birthdays, marriage anniversaries and like many other groups short videos which are usually forwards from other groups or sources. We seem just like any other group of middle-aged individuals coming to terms with technology.
Online and in-person meetings: The group had held some in-person gathering and outings pre-pandemic.Also, during the ongoing pandemic there were a few Zoom meetings. Zoom reunions are more comfortable, and you can attend from the comfort of your home without the need for travel. However, we all have our subgroups and close-knit communities within the larger class group. In a Zoom meeting we are usually exposedto all our classmates at one. This can be unnerving for some. There is the option to create breakout rooms, but this could be divisive in my opinion. How do you decide who should join a particular breakout room? Can the others join if they so desire?Will those who are unable or not invited to join feel left out and unhappy?
The real and the virtual: Cinema brough the real world to life on the screen and television brought us real events happening globally. With video calls, videoconferencing, and webinars we can connect with individuals instantaneously. Our ability to manipulate objects and perform procedures in virtual spaces will improve. Entering and exiting these worlds will become easier. With higher computer processing power and internet speeds these worlds will be richer and more life-like. The blending of the real and the virtual started during the last century and will be commonplace during the next one.
Me and the group: I was a late entrant to the group. I have worked in different countries over the years. When we had separated in the nineties, the world was a different place. There were no cell phones and no internet. If the group is a solar system I would consider myself as one of the outer planets. As the creator of the group and among the most frequent contributor Dr Anudath may arguably be regarded as the sun. I do post occasionally and respond to birthdays, marriage anniversaries and marriages of children posted on the group. These days many of these ceremonies are streamed live on the internet and recorded for posterity.
We are like stars created and moulded in a nebula but now moving far and wide through the universe to fulfil our mission of spreading warmth and light. Our group links us together. We are separated by space but united by technology!
Author Bio: Dr. P Ravi Shankar is a faculty member at the IMU Centre for Education (ICE), International Medical University, Kuala Lumpur, Malaysia. He specialized in M.D Pharmacology (PGIMER, Chandigarh, India) and is a FAIMER Fellow in Health Professions Education (PSGFAIMER). He has over twenty years of experience and has worked as Professor, Associate Dean, Curriculum Committee Chair in several Universities. He has around 700 publications in various national and international reputed journals and has reviewed more than 640 articles. He has written chapters for seven books published by internationally established publishers. He enjoys traveling and is a creative writer and photographer. He has facilitated health humanities modules since 2007 in different schools. E-mail: ravi.dr.shankar@gmail.com